SALSA DIRECT - THE No. 1 UK SALSA
& LATIN MUSIC BAND & DANCE AGENCY
Based in London, but with groups countrywide, Salsa Direct is the UK's premier specialist agency for authentic salsa bands and latin music groups and musicians of all Latin American styles.
Whether you are looking for Cuban/ Colombian Salsa, Dominican Merengue, Spanish Flamenco or Gipsy Kings, Argentinian Tango through to Mexican Mariachi, the old Havana Buena Vista 'Son' sound, Peruvian Panpipes, Brazilian Samba with Carnival dancers, Latin-Pop, Latin-Jazz, or very much more that you may not yet have heard of - we have the lot!
We also supply Latin dancers, Brazilian carnival dancers, Salsa / Merengue / Tango / Lambada / Reggaeton / Bachata dance shows / cabaret, and dance teachers / instructors and Latin DJ's, in a wide range of styles: from steamy Cuban to exotic Carnival in Rio Brazilian dancers with feather headdresses, traditional Mexican Hat Dancers, sultry Tango, Latin Ballroom, South American Folk dancers - even fiery Caribbean Limbo, and now the lastest Gangnam dance craze too, all in full authentic costume.
Established for 13 years, we are based in London, UK, but supply our artistes internationally, as far as Dubai, Jordan, Lithuania, Egypt, Kuwait, Bahrain, even South Africa and South America.
Here at Salsa Direct, we know the strengths and specialities of all our personally-vetted acts, and will give you a carefully tailored selection of the acts we believe to be the most suitable for your event, be it a private party, a wedding, a festival, or a high profile TV advertising campaign or international product launch.

Our bands and dancers are based throughout the UK, so we always aim to find you the most suitable local act, to keep prices down. We have the largest up-to-date roster of specialist Latin artistes of any of the UK's agencies, and we regularly supply all the other major Agents and Event or Function Planners who come to us for our vast knowledge of Latin American culture, and of the suitability of an act for any specific event.
So if you have found Salsa Direct, you are cutting out the middle man!
We also have a huge ideas-bank (including decor and catering) to help you to make your theme night the most imaginative and successful one ever!
Whether you want a hot and spicy full-on dance night or a laid back cool jazzy reception, we have the very thing for you.
Some of the Events that we have supplied for:
weddings
private partiesbarmitzvah's/batmitzvah's
christenings, funerals and marriage vow renewals
celebrity/royalty functions

clubs/ bars
(Cafe de Paris, Bar Salsa, Havana, Cuba, Down Mexico Way etc)
restaurants
(Oxo tower, the Roof Gardens, Trader Vic's - Hilton, Latin Square, Cafe Royale etc)
Hotels
(Hilton, Crowne Plaza, Sheraton, Kempinski etc)
Function venues
(Vinopolis, London Aquarium, Tower Bridge, Natural History Museum, G-Casino's etc)
shopping centres
(Whiteleys, Lakeside Thurrock, Bullring, the new Highcross Leicester etc)
shop promotions
(HMV, Harrods, Debenhams, World Duty Free Heathrow and Gatwick Airports, London City, Liverpool and Newcastle Airports etc)
product launches
(Brugal Rum, Bacardi, Havana Club, Corona, Old el Paso, Doritos etc)
corporate events
(Legal & General, HSBC, Vodaphone, Financial Times etc)
conferences
(Greenpeace, Friends of the Earth, Nicaragua Solidarity campaign)
political rallies/campaigns
(Labour Party, Lib-Dem, Marxist rally )
Award Ceremonies/ Charity Fundraiser Events
(VSO, FNZ, Diabetes UK, Lupus, Cancer Research Moonwalk etc)
staff training / team building events

salsa weekends/clubs/classes
holiday camps
(eg Butlins)
cruise lines
(Fred Olsen, Royal Caribbean, Fjord Line)
Strictly Latin / Ballroom/Come Dancing nights
TV programs
(Strictly Come Dancing, Generation Game, Graham Norton show, Channel 4, BBC: Happiness/My Family/ Alexei Sayle etc)
Festivals and Arts centres
: (Womad, One World, The National Theatre, and throughout Europe )
OUR CURRENT PROJECTS
Olympic Summer 2012 was a frantic season for Salsa Direct, supplying salsa bands and dancers to places as far flung as the Caribbean (Fred Olsen cruises), the Kempinski hotel Kuwait, Kaunas - Lithuania, and the Crowne Plaza Bahrain (who we supply with New Year entertainment annually), and programming the entire Family Festival in St Helier, Jersey, as well as the official Olympic after-party events. We put Cuban bands in for 2 Film Premieres in the UK this summer: "7 nights in Havana" and "Day of the Flowers". We also sent a Brazilian band to the Bahrain Grand Prix in Spring 2012!
We recently programmed the entire Latin music events for the summer in Solihull's Touchwood centre, and won the contract for programming the live salsa bands for the newly revamped Latin club "Fiesta Havana" in Fulham, London which has brought in a new breath of life to the place and is building a huge popularity, as well as the "Revolution" Latin bars all around the UK.
We have 17 NEW carefully vetted Latin and other bands added to our books this year distributed throughout the UK, from Yorkshire, Manchester, Leeds, London and the South West, so regular clients of Salsa Direct can try something new! Due to demand from one of our repeat clients, we have now also added a Korean harpist and drum group, Chinese acrobats and Lion dancers, an African Kora player, and Nigerian dancers to our books.

STOP PRESS...... We still have some availability of acts for Christmas/New Year 2012 in various regions of the UK and abroad, contact us now to discuss your needs!
Our latest Party act is a fun display and GANGNAM style entertaining dance workshop - broadening our horizons, and this can be combined with Salsa.


We have just been nominated for the prestigious LUKAS Awards for outstanding contribution to Latin Business in the UK - please click here to vote for us, under Web Services - and select Salsa Direct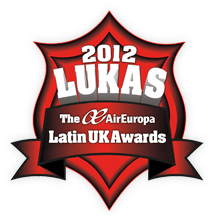 Closer to home, we had the following great feedback:
"Thanks again - outstanding service from Salsa Direct"
Richie Mateo, April 2012

"I just wanted to say thank you to Coco Xpress and dancers for performing at the Showzam Festival Carnival Ball last night at the Blackpool Tower Ballroom. It was great to have everybody up dancing so early and throughout the night."
Sarah Rowland, Showzam Carnival Committee, February 2010
" Thanks so much for a wonderful band (Soneando). They were great and everyone since has said how fantastic they were. I am sure you will get some work from some of my friends. I will be in touch next time we have a party."
Martin Lloyd-Elliott, October 2009
"Just writing with feedback of the day. Coco Xpress took us on a fascinating musical journey through Latino rhythms from classic to modern salsa and merengue, quickly building up a natural and vibrant rapport with the audience that was both uplifting and highly energised with an irresistible dance beat. Wonderful performance that was not so much a concert as a party."
Clive Bell, Horniman Museum Gardens (2nd August 2009) )

"Just a brief note to let you know that we had a great time on Friday night. The Band (Coco Xpress) was excellent and everyone said it was the best Ball we had ever had. Everyone danced it seemed the whole time. The DJ was excellent too. I'm sure we will be using them again in the future. Thank you very much for looking after us"
Alexandra Daniell, Chairman Anglo Argentine Society (Oct 2008)

"Just wanted to say thanks to yourself and Latin Fiesta band for Sunday night, the evening was a great success and the music and dancing was brilliant. You have provided us with consistently excellent salsa bands, we will come back to you again.
Thanks again
Isla, Manager, Barney's Bar & Restaurant, (September 09)

"Just wanted to say a big thank you for the booking this afternoon at RHS Harlow Carr - the band "La Tinto" was excellent and feedback was fantastic."
Victoria Appleby, Events Assistant, RHS Garden Harlow Carr, Harrogate (September 09)

"I just wanted to tell you that we had a great night at Folkestone Arts Centre and COCO XPRESS band were amazing. We don't get Salsa Bands down to Folkestone very often, but it was great to show my students what a pleasure it really is to dance to a live band. The band were friendly, and obviously love to play music, It was great to have real Latin Salsa. I cannot tell you how much we enjoyed the evening. Please could you pass this email onto the band."
Sharon Perez (June 2009)

"Just a quick note to say Latin Fiesta were ABSOLUTELY FANTASTIC! My guests loved them, they made the party, so professional setting up, honestly can praise highly enough! Thanks so much for organising our fussy requests! "
Monica Bhaskar (Aug 2009)

"Thank you, the SOLID STEEL band were great, very easy to work with an very accommodating. I will call on your services again when I am asked to arrange entertainment; I know that this event will happen next year. Again many thanks.
Peter van Sittert, Hire and Event Manager, Focus 21 Visual Communications Limited (Aug 2009)

"We're emailing to say thank you for arranging the excellent services provided by DJ Edlin at our wedding last month. Whilst the wedding party depleted, his enthusiasm did not. Edlin understood the dynamics of the group quickly, ensuring that we could enjoy salsa and then move swiftly to the joys of Abba and Grease without returning to La Bamba (the crowd just wasn't that into it). Everyone had a wonderful time and it made our wedding party! Thank you!" .
Nick and Hannah (July 09)

"Andalus were fabulous. All our guests loved them. The dance floor was packed from start to finish. They were extremely professional and I would not hesitate to recommend them and Salsa Direct in the future."
Christian Stanley (April 09)

"Well what a ball!! In no small part due to the most fabulous and entertaining Cocoxpress and dancers. WE loved them all. They were so professional in every sense. The music was spectacular. The sparkly shirts looked just right. The dancers are responsible for my aching bones (!) but the pain reminds me of that most spectacular night. So many people believed they couldn't Salsa before the ball. Your patient, smiling, beautiful dancers proved them wrong. We have received a lot of messages and comments on how much the band and dancers were enjoyed.. THANK YOU, THANK YOU, THANK YOU ALL.............With great good wishes"
Tina Malhame, St John's Beaumont School (Feb 09)

" I wanted to let you know that the ball was a success and Coco Xpress band was fantastic. The comments we had from all were they were great, best band that Pangbourne College has had in a long time. The music was great, your staff lovely. The evening was marvellous and the band was a big part of that. Please pass on big thanks to the team for they were patient and wonderful that night. Thank you very much for making our "Latin" evening a success. "
Kathy Johnson On behalf of Pangbourne College Parents Association (March 09)

"The band you sent us "Lokito" were great. I was particularly impressed by their friendly professionalism and bright, optimistic musical style that cut through the rather dismal weather. We would certainly book them again for the Northampton Festival. Thanks once again for your help."
John Tattersfield, Arts Development Officer, August 2008

"CoCo Xpress really helped to create a lively party atmosphere at our wedding and we had plenty of comments from our guests on the fantastic music they played. You don't have to be a salsa expert either as they have a good repertoire of latin pop, and all generations were soon up and dancing. They set up quickly and unintrusively too, which was an added bonus. We would highly recommend them for any event."
Melanie and Michael

" The Mariachi Tequila band were very good, the music was just right, a real Mexican sound."
Wendy, Corianders restaurant, Bournemouth, April 08

"As promised I would like to feedback on Viramundo who I booked for my wedding on 16th Feb. I am sure you will recall that I had wanted a particular sound and instruments.
Well, I can hardly thank you and them enough. They exceeded our expectations. They were punctual, professional, listened to my requests, played wonderfully - in fact they whipped up a storm.
We loved them, I am over the moon. They made a very unique and memorable contribution to our wedding day.
Please pass our thanks and delight on to each of them. Thank you again - they were worth every penny."
Hala Mustafa, Feb 2008

"Just to say thank you very much to you and the band, Coco Xpress, for a fantastic evening of music and entertainment. Everyone has said it was the best ball ever and it was the music that gave it this accolade. I certainly have never seen so many people up and dancing for the whole evening including the vicar!! I can highly recommend Coco Xpress not only for the talented musicians but also for the smooth and professional organisational element. Thank you and wishing you all the best"
Brianne and the Westbourne Committee, July 2008

"The band Soneando were great! Very obliging and the music was fantastic-just like being in Havana in fact. I'm sure they played longer than agreed and they were all very charming. Many thanks for arranging it-we are both very grateful and we would certainly contact you again if needs be."
Stephen Clarke , June 2008


Please get in touch to discuss your idea with us:
email us
or call the Salsa Direct office on:
(UK +44) 020-8808 4290
We speak English & Spanish (se habla español)
No enquiry is too small or too crazy !
We can offer you Latin Salsa bands and salsa and gangnam style dancers in:
London, Surrey, Sussex, the Home Counties, Hertfordshire, the South East, Kent, Essex, Devon, Dorset, Cornwall, East Anglia, Ipswich, Norfolk, The Midlands, Birmingham, Coventry, Warwick, Wales, Herefordshire, Shropshire, The North, The North East, The North West, Liverpool, Manchester, Leeds, Sheffield, Newcastle, Hull, Durham, Harrogate, Scotland, Glasgow, Edinburgh, the Hebrides, Ireland and Northern Ireland, the Isle of Wight, Jersey, Guernsey and Internationally. We have sent bands to Lithuania, Spain, France, Germany, Switzerland, the Caribbean, South America, Dubai and the Middle East, India - and more.
Tell us where your event is happening, and we will provide the entertainment!!