Buenos Aires Tango Orquestra (BATO)
Buenos Aires Tango Orquesta (BATO) is a Tango Band settled in London, England. They are playing around the UK since 1997, performing with all the main UK tango musicians in "Hampton Court Palace", "Riverside Studios", "Tango on the Thames Cruise", "Argentinean Embassy it the UK", "Hoxton Hall Theatre", "Wimbledon Studio Theatre", "Evita Opening Night party", etc.
They are the only Tango group in the UK to use the very important and authentic Bandoneon instrument (similar to accordion) which is so characteristic of Tango.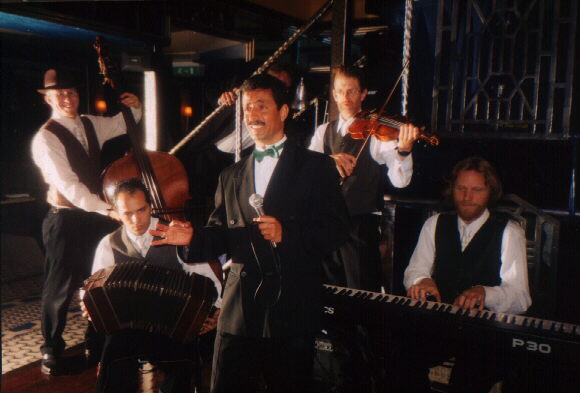 They performed onstage as part of the musical "Tango in the City" by Terry Bate (Royal Shakespeare Company) and Fay Weldon.
They have given Tango Workshops, Explaining and teaching the world of the Tango and performing at "Oxford University", "Cambridge University", "Chicheley University", "University of Essex" and "Reading University".
They have performed with the most prominent tango dancers form the UK: "Genoveva y Andres", "Eduardo del Rio", "Mina y Geraldo", "Ivan Arandia", "Cesar y Carolina", "Alison y Clo", etc.
They have lately performed in the "Polo Chandon" Cup Final and "The Queen's Polo Cup", as well as "River Tango", the biggest ever UK tango festival.
"Buenos Aires Tango Orquesta" (BATO) are:
GUSTAVO VESSANI (Bandoneón). Partipation: Carla Pugliese, Banda Sinfónica de Buenos Aires, Orquesta Sinfonica CM de Moron, Banda Sinfónica CM de San Martin, musical "Tango in the City", gabación "Evita", etc.
JAVIER LOPEZ DEL CARRIL (Guitar). Participation: Susana Rinaldi, Horacio Ferrer, Pepe Soriano, etc.
ENRIQUE GALASSI (Doublebass). Participation: "Tango in the City Musical". "Del Plata Tango Quintet"
FERNANDO NICOLAS MANRRIQUE (Voice). Participation: BBC, Los del Sur, pelicula "Evita".
For more information/bookings: email tango@salsadirect.co.uk or call 0208 808 4290